Leavers Hoodies Available Now!
Posted on February 25th, 2015

Has Your School Ordered 2018 Leavers Hoodies Yet? Jackets and T-Shirts Are Also Available.
Create a lasting memento for your school leavers by providing colourful garments with unique printing on the back and your embroidered school logo on the front. Choose from contrast colour hooded tops, single colour hooded tops, jackets and T-shirts.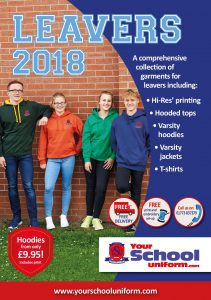 Wide choice of garments and colours

Junior and senior sizes

FREE embroidery and print set-up

Full embroidery and print service

Simple ordering process

FREE delivery

Discounts for existing customers

High quality, affordable garments including HUBACO – our exclusive brand
(P.S. If you're planning ahead and would like to discuss 2019 leavers hoodies and other garments, please have a chat with us on 01773 837379.)