Looking for Trips and Events hoodies? Click here.
Leavers Hoodies, Jackets and T-Shirts
Consider creating a lasting memento for school children by providing colourful garments with unique 'leavers' printing on the back and an embroidered school logo (if you wish) on the front.
Choose from:
One Colour College Hoodies
Contrast Colour Varsity Hoodies
Zoodies (Classic Full Zip Hoodies)
Varsity Jackets
T-shirts
Why Consider Leavers Garments from YourSchoolUniform.com?
Low prices Рhoodies from only £11.95 including print!
Wide choice of garments and colours
Junior and senior sizes
FREE set-up for embroidery and print
Choice of 10 print designs
Different print colours available
Full embroidery and print service
Simple ordering process
FREE delivery
High quality, affordable garments including HUBACO – our exclusive brand
Print Designs for School Leavers
You can choose from 10 print designs for leavers clothing and there is now a choice of print colour too. The print colour may depend on the garment colour(s) selected. Simply have a chat with us. (The total quantity can be made up of mixed garment colours with one print colour.)
Choose from 10 print designs.
(Most designs include a list of pupil names. Hooded top colours below are for example only. More colours are available.)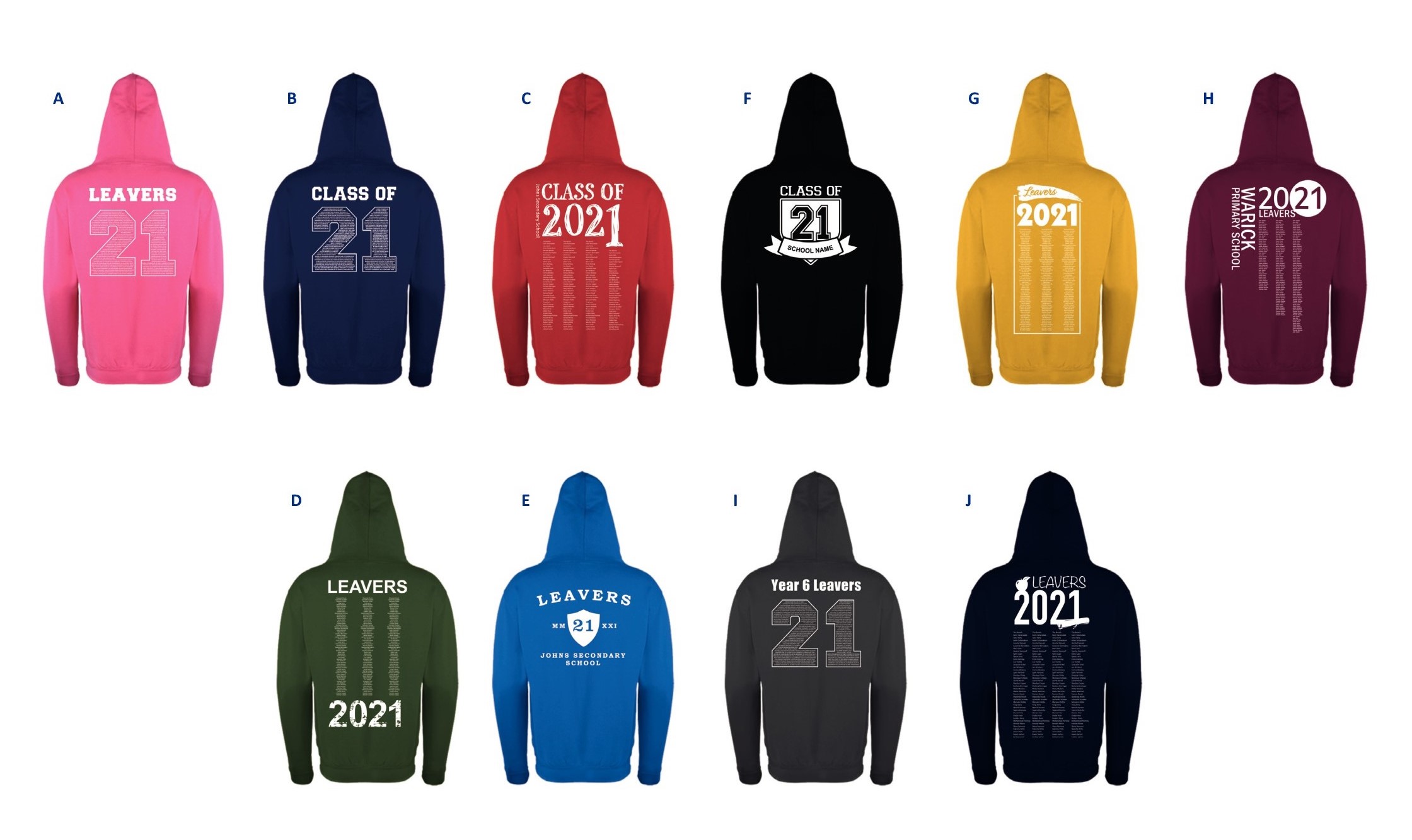 Prices for Leavers Clothing – Includes Print Design!
We understand that all schools vary in the number of pupils leaving and the amount that can be spent on clothing. Therefore, we have included a wide choice of garments in our leavers brochure so that there is something to suit all types of schools and parent budgets.
To provide you with choice, we supply 4 different types of hooded tops:
School colour hoodies Рthe most affordable option and ideal for keeping within the school's official uniform colour. Prices from £11.95
Huge choice of other colours Рstill a very affordable option for those who would like a change from their school's usual colour. Prices from £12.95
2 colour hoodies Р contrast hood inner and contrast drawcords (drawcords only on senior sizes) for the more unique look. Prices from £13.95
Zoodies (a classic full zip hoodie) Р a versatile garment. Prices from £14.95
If you would like an alternative garment to a hooded top, we also supply the following items which also include a leavers design print:
Varsity jackets from £16.95
T-shirts from £6.50
How To Order
Contact us to discuss your requirements. (Free samples are available.)
Send us: the names of pupils (if required), your school logo (if required), confirmation of garment type, garment colours, sizes, chosen print design and print colour.
We will produce the artwork and see to the rest!
Call us on 01773 837377 OR e-mail us at leavers@yourschooluniform.com to discuss your requirements.
Not found what you're looking for?
We also do garments for:
Trips, Clubs, Teams and Special Events
In addition to garments with leavers designs, you can also order hooded tops, jackets and T-shirts for your trips, clubs, teams and special events. We can include print and embroidery on most garments and bags. The choice is virtually unlimited.
Click here for more information
Call: 01773 837377   Email: leavers@yourschooluniform.com
The 2021 leavers brochure has been produced to give an overview of the product range for leavers, trips, clubs, teams and events. Prices are fixed until September 2021. The range may be updated from time-to-time and other items are available. Size guides can be requested for ease of ordering. Prices are per garment and include a single print. Additional prints will incur a further charge. School badges/logos can be embroidered on the front left chest at an additional cost. Prices include design artwork and logo digitisation where required. Prices exclude V.A.T. where applicable. Bulk delivery to schools or a single address is free of charge. Minimum order quantities apply.